Mac Games > Puzzle Games
> Ancient Trijong
Ancient Trijong
Watch Video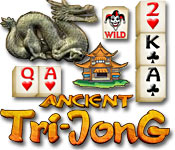 Love Tripeaks and Mahjong? Then hold on to your hat because here comes Ancient Tri-Jong. With all the best features from the award winning Tripeaks game and the fun loving style of Mahjong, Ancient Tri-Jong is sure to be a hit among Solitaire and Mahjong players alike. Use the in-game media player to listen to your own music while you play. Explore 15 challenging quests and 150 levels in this addictive and unique twist of 2 classic games!
Features
A Unique Blend Of Tripeaks And Mahjong!
150 Exceptional Levels
15 Challenging Quests
Listen To Your Own Music While You Play!
Free download Ancient Trijong
6.6 Mb
Screenshots



System Requirements:
OS: Mac OS X 10.4+
*
This game is available for PC